To help you make this Father's Day special, we've put together a list of several frugal and easy Father's Day ideas even kids can easily make!
Links on this website may be affiliate links.  We are an Amazon affiliate, which means we will receive a small compensation for each purchase you make through our links at no extra cost to you. 
Father's Day is right around the corner!
We know that this time of year is a bit busy – school just got out and summer vacations are in full-swing. It can be a bit overwhelming to try to fit Father's Day into the middle of it.
However, dads are worth celebrating. (In fact, we dedicated an entire post to the idea, filled with inspiring videos and quotes about the great men who raise good children).
To help you make this day special, we've put together a list of several frugal and easy Father's Day ideas. If you want even more ideas, you can see them here.
Gifts
Give the father in your life something special with these fun DIY presents, cards, and more!
A Father's Day gift basket idea that's fun to shop for and something that all dads will love!
Father's Day is a wonderful opportunity to get creative with the kids making gifts and that special DIY Father's Day card.
We know that every father likes handmade gifts. In fact, they appreciate gifts that are practical and that can be put to good use. This Father's Day, impress all the fathers in your life by offering them a gift from your heart!
Use materials from the hardware store to create a bow for a father's day present.
Make your very own Father's Day Trophy Craft for dad this Father's Day! Perfect paper craft, perfectly engineered by Mrs Mactivity. This Father's Day trophy craft idea is totally unique to Mrs Mactivity and has been hand designed and created by a qualified designer – checked by a teacher of course.
Not only can you tell your dad that he's the World's Best Dad, you can all tell your Opa that he is, in fact, the World's Best Opa. Or Abuelo. Or G-Pa. Download your favorites of these Free Printable Father's Day Certificates at the link.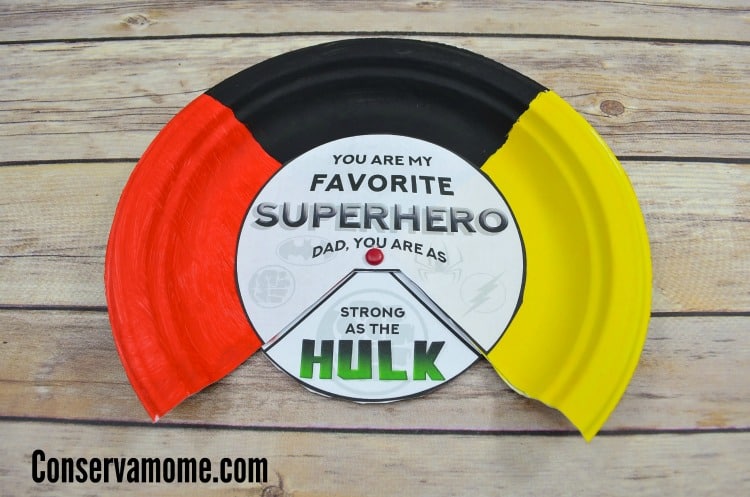 This fun Super Hero Father's Day Craft Idea is the perfect way for kids to show their father what an amazing superhero they think he is. Easy to make and a fun project that will be something they treasure forever!
Need a special father gift idea? Here is one you can make by hand and customize it. Learn how to make a Washer Hand Stamped Keychain.
Make your own Father's Day Weave Tie Card with this fun Father's Day craft card idea! Use your fine motor skills to weave the tie using this beautiful bright designs – or colour your own! All instructions are included and will show you exactly how to weave your Father's Day tie craft.
40 Father's Day Gifts DIY is just what you need to find Father's Day Gifts ideas for that special dad. With so many Fathers Day crafts available, this list will give you some of the best ideas from around the web!
This free Father's Day Printable Questionnaire can be colored by your child to personalize it a bit further. There is also a full-color one ready to go, too. This questionnaire has both dad and step dad options available.
Sonic drink holders make the perfect Father's Day gift box. A simple Eco-friendly DIY craft for you and your kids to make by re-purposing a favorite drink holder. Doesn't that sound like fun?!
Does the special man in your life really want another tie as his token present? Pobably not. This all-natural homemade bar soap is a perfect gift for the father figure in your life – regardless of the occasion. It has the perfect combination of "man-scent" and skin nourishing moisturizers. It's all natural, does not contain any lye – and oh by the way – takes all of 5 minutes to make!
Looking for the perfect last-minute fathers day gift? One of these gifts will definitely make that special dad in your life feel loved and appreciated!
We love giving books as gifts that reflect our feelings. Here are some of our favorites on Amazon.
Things to Do
One of the best things about being a dad is spending quality time with your kids. Here are several posts that give ideas of things you can do spend time together on Father's Day.
Dad's are the best! It's easy to show them a little extra love and appreciation. Here are 7 ways to bless your dad this coming father's day, birthday or just because.
Father's Day is a great opportunity to spend special time together as a family, doing something new, something old or something amazing. There are plenty of things to do on Father's Day that you can do as a family to honour that special father or father figures in your life.
Spend your time on Father's Day outdoors with these great cheap and free summer activities to do with your kids!
Parenting is hard work, but one of the most rewarding parts of fatherhood. Here are 45 free activities you can do as a family this Father's Day!
Recipes
Spoil the dad in your life this Father's Day with these delicious desserts, main dishes, and more!
This delicious tuna casserole is actually one of Phillip's favorite meals, so we had to include it in this list of delicious recipes for Father's Day!
Wondering how to make donuts at home? Here's the ultimate guide for you! Whether you're looking to make baked donuts or fried donuts, or are simply looking for some donut frosting ideas, this post will help!
Cook a nice juicy Air Fryer Steak with Herb Lemon Butter aka the perfect celebration meal for Father's day.
This low carb keto custard recipe is one of the easiest ones to make, because it's not that different from regular custard. It tastes great, and is perfect for Father's Day!
The sweet and salty classic, now with a gluten-free, vegan, and allergy-free recipe! These Easy Gluten-Free Chocolate Covered Pretzels just need 2 ingredients and make for a fun dessert, snack, or edible gift!
This Juicy Air Fryer Hamburger, that the whole family will happily tuck into, is also a perfect treat for Father's Day.
Nothing celebrates your dad like breakfast in bed with the world's most amazing pancakes!
Another one of Phillip's favorite dishes; we had to include this easy and delicious breakfast casserole full of eggs, several types of cheese, and other goodness.
Pin It!
Plan on using these ideas? Share them on Pinterest!