Links on this website may be affiliate links.  We are an Amazon affiliate, which means we will receive a small compensation for each purchase you make through our links at no extra cost to you. 
Nothing says Christmas like baking delicious Christmas recipes. These Christmas baking recipes for cookies, cakes, and more will bring the holiday season into your home. Some are even easy enough for kids to make!
Pin It!
If these recipes look yummy, please share them on Pinterest! And don't miss out on our other Christmas ideas like crafts, traditions, treats, and more!
If you're looking for a recipe for perfect sugar cookies this holiday season, then we've got you've covered! These delicious but easy sour cream sugar cookies are light and fluffy, and they are are perfect for cutting into fun, festive shapes with cookie cutters!
Topped with a delicious homemade cream cheese frosting, these cookies are perfecting for making and decorating with your children to serve at your holiday party or to give to neighbors while you go caroling!
Christmas Magic Cookie Bars are a classic Christmas dessert easy recipe. We have been making this sweet treat in my family for many years. Only six ingredients.
"You're a mean one Mr. Grinch….". A favorite holiday character inspires a tasty Christmas cookie- Grinch Shortbread Cookies. A simple, sweet, and buttery recipe with a tinge of green and the Grinch's growing heart.
Who else is looking for a "knock it out of the park" cookie for the holidays? Cranberry Bliss Cake Mix Cookies to the rescue! These delicious cookies are whipped up in a flash leaving you time to shop, wrap gifts and even watch your favorite Hallmark movie!
Classic gingerbread cookies get jazzed up with the addition of white chocolate and eggnog for a new holiday favorite. Three favorite holiday flavors are melded into one recipe to get you into the holiday spirit and please your festive friends and family. The soft and chewy ginger molasses cookie full of rich and cozy spices is perfectly balanced by the smooth and creamy white chocolate eggnog center giving them great flavor without being overly sweet.
Cranberry Coconut Cake is a showstopping dessert, perfect for any holiday party or festive occasion! Layers of moist coconut cake are filled with a sweet-tart homemade cranberry filling, frosted with rich cream cheese frosting, and coated in a layer of sweetened coconut.
These Christmas cherry balls are so easy to make and great for making with small children or with a glass of wine….or three…. with friends.
This Gluten-Free Vegan Yule Log is moist and fluffy, super indulgent, and coated in a velvety chocolate buttercream made from chestnuts! It's the perfect festive dessert for Christmas!
Looking for a simple Christmas breakfast recipe? These hot chocolate muffins are easy to make and delicious. They can even be frozen.
A velvety white chocolate cheesecake swirled with peppermint pieces and chocolate bits sits on top of a buttery Oreo cookie crust and is topped with a luxurious white chocolate peppermint mousse, garnished with a vanilla whipped cream, and decorated with chocolate shavings and peppermint crunch. This creamy and decadent dessert may seem daunting at first, but is instead a relatively simple recipe that just requires planning and time management. This festive and fancy dessert will undoubtedly be a show stopper for the holidays.
This Homemade Gingerbread Houses Recipe is more than a recipe, it's a tradition. This recipe even comes complete with a template. It's also affordable – it only costs just $6.95 to make 2 large houses!
Want something more festive than plain old lemon bars? This recipe was originally an experiment in combining gingerbread and lime flavours that ended with amazing results! It will definitely become a family favourite and a Christmas baking staple in your house.

This gingerbread scones recipe is perfect to make when the weather gets cooler. Curl up with your coffee and a gingerbread scone or three…a delicious way to enjoy fall or winter.
If a snickerdoodle, sugar cookie, and a vanilla wafer walked into a bar that only served eggnog, this is the cookie you'd get. With crisp, golden edges and a slightly chewy interior, these Eggnog Cookies are the perfect holiday treat. They're small and simple in stature, but with subtle flavors of eggnog in every bite, these cookies are anything but expected.
The chances are, if you've stumbled across this recipe, it's likely you've asked the Google gods, in a bit of a panic, to find you a recipe for a last minute Christmas fruit cake. One of the best things about this last minute Christmas cake recipe is that it can be made with any flour you like. Even gluten free.
With a harmonious blend of spices and just the right amount of eggnog flavor, you'll adore these cakes even if you don't love eggnog. With a sweet white chocolate ganache to balance the spices and a crunchy crumble for added texture, these festive bundt cakes make a perfect holiday dessert.
These cookies are a total joy for Christmas. They still have all the classic charm of snickerdoodles, with that signature tang and chewy texture that comes from the cream of tartar. However, the caramel filling adds a fun extra surprise, and the apple cider makes them perfect for a new seasonal tradition.
These cookies are so good that you'll turn them into a family tradition year after year! Dark chocolate chips, coconut, and maraschino cherries come together in a delicious Christmas cookie!
Cranberry cake is a delicious holiday dessert. It's a simple cake to make and it's sure to impress your guests. It's also a great Thanksgiving dessert. This Christmas Cranberry Cake is simple though. It doesn't use a frosting but is instead just dusted in powder sugar so that helps reduce the number of steps involved.
These snow capped pecan shortbread cookies are fairly quick and easy to make but absolutely delicious! The combination of light and buttery pecan shortbread cookie dipped in semi sweet milk and white chocolate make it impossible to resist. Go ahead and try to resist although you probably won't be able to!
These Peppermint Bark Cookies bring together everything you love about shortbread AND everything you love about peppermint bark in one bite!
Cranberries are high in fibre, yet they're low-sugar fruit, so you may find that this tart(ish) loaf needs a little more sweetener to suit your family's taste buds. And keep in mind that this loaf freezes well. So it's great to keep on hand for coffee guests, after-school snacks, or to take along as hostess gifts for holiday parties.
What happens when a gingersnap meets a snickerdoodle? You get a gingerdoodle, of course! These cookies combine two Christmas classics (cinnamon-sugar and ginger molasses) to create the quintessential cookie for the holiday season. These buttery cookies are crunchy on the edges, yet soft and chewy on the inside. Perfectly sweet and full of warm spices, these festive cookies are the ultimate addition to any cookie tray.
Christmas is coming, and we all know what that means – chocolate orange time! These cupcakes are better than a chocolate orange too! A medium batch of rich and gooey chocolate orange cupcakes with plenty of smooth, silky buttercream icing.
This paleo, dairy free, and gluten free fruit cake is a great addition to a Christmas dessert table. It's perfect for dessert at holiday parties and potlucks, yet it's nutritious enough to eat for breakfast or as a snack.
The delicious spice flavors of eggnog are now found in Classic Snickerdoodle cookies. A must try recipe for every holiday gathering.
Bûche de Noël (or yule log cake) is a French holiday classic similar to a jelly roll or Swiss roll cake. This spin on the traditional yule log features a fluffy chocolate sponge cake filled with a cranberry-raspberry mascarpone cream and coated with chocolate ganache resembling bark for a delicious and beautiful Christmas centerpiece. The tartness of the cranberries is balanced by the sweetness of the raspberries creating a decadent flavor combination for a festive winter-time dessert.
These Gingerbread Cookie Bars are chewy, sweet and taste just like gingerbread! These cookie bars make the best holiday treat!
This easy Brownie Cookies Recipe is just the Christmas Cookie recipe to make for the busy holiday season. They cost just $4.75 to make and 15¢ per cookie.
Berlinerkranser are one of the most popular Norwegian Christmas cookies, enjoyed by families in the old country as well as Norwegian immigrants on the great plains. These traditional Scandinavian Christmas cookies are twisted into a distinctive pretzel shape, which gives them their name "Berlin Wreaths." Their dough contains both hard-cooked and raw egg yolks, to bake in as much rich egg flavor as possible.
Buttery cookies with bits of pecans are shaped into crescents and dipped in a chocolate coating for a perfect combination. These cookies have been favorites in our family for generations!
There are many traditions associated with the Christmas season. How have these Christmas traditions evolved over time? Many of our Christmas traditions have a long and fascinating history. Christmas cards, Christmas trees, Christmas carols, and other traditions are still important parts of our festive celebrations. This one is the Crème Brulée Gingersnap Cookies! Your kids will enjoy using a kitchen torch to make the Crème Brulée (parental assistance is advised)!
These Chocolate Ginger Crinkles are soft, spicy and beautiful. The dough is rolled into sugar before baking, and it's what gives this beautiful crinkled appearance. These cookies are sooooo easy: to the eyes and to bake. You just need to melt butter and chocolate, mix everything together and let it sit for 10 minutes before rolling into the sugar-ginger mixture.
These melt-in-your-mouth, soft, thick, and chewy cookies are overloaded with white chocolate and cranberries to put you in a festive mood. Perfect for dessert, morning treats with coffee, and holiday cookie trays, the sweetness of these cookies is perfectly cut by the tartness from the cream cheese, cranberries, and subtle notes of orange zest for a heavenly combination that'll leave you craving more.
A unique taste on a holiday classic, these chocolate peppermint blossoms may look like peanut butter blossoms but with a chocolate cookie and candy cane mint Hershey's kiss, making them the perfect holiday cookie.
This gorgeous gingerbread chocolate honeycomb is a festive twist on the popular traditional candy. Add traditional gingerbread spices and top the chocolate off with broken pepparkakor (gingerbread).
Make your holiday complete with these festive Vegan Snowball Cookies. They are light, crisp, buttery and coated in sugary heaven! Plus, they require just 7 simple ingredients and take 25 minutes to make.
Are you familiar with wedding cookies? Sometimes they are called Mexican wedding cookies or Russian tea cakes. These peppermint snowball cookies are very similar.
This Hanging Gingerbread Cookie recipe is a unique spin on the classic that has been shared over 100 thousand times. Just add a small candy cane to the back and hang the cookies from a cup of cocoa! This recipe has been shared over 100,000 times!
These rich, tender, and buttery cakes are bursting with holiday flavors. The tart cranberries are perfectly balanced by the sweet oranges for bright and festive cakes that make for great gifts or tasty treats.
Traditional thumbprint sugar cookies get a holiday twist with a chocolate ganache filling sprinkled with peppermint pieces.
Jólakaka or Icelandic Christmas Cake is a delicious buttery loaf cake served around the holidays in Iceland. Seasoned with cardamom and studded with raisins, it's a lovely accompaniment for coffee.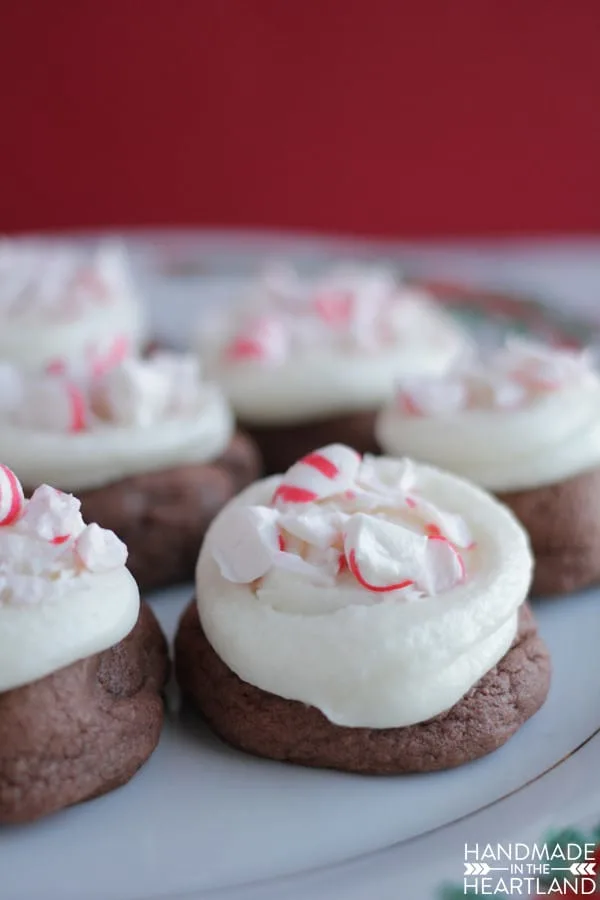 These delicious peppermint pudding cookies are loaded with yummy chocolate and would be perfect for a cookie exchange or bake sale!
Pin It!
If these recipes look yummy, please share them on Pinterest! And don't miss out on our other Christmas ideas like crafts, traditions, treats, and more!