It's the holiday season, and nothing gets kids excited about Christmas more than free Christmas printables! These 30 free Christmas printables for children come from great templates and are sure to help your kids have fun this Christmas break! Keep your children entertained over Christmas vacation with these free Christmas printables for kids, including toddlers and preschoolers!
Links on this website may be affiliate links.  We are an Amazon affiliate, which means we will receive a small compensation for each purchase you make through our links at no extra cost to you. 
Pin these free Christmas printables for kids!
If you like this post with free Christmas printables for kids, please share it on Pinterest! And don't miss our other awesome Christmas posts!
This would be a lot of fun to play as a family during the holiday season. Maybe your Elf On The Shelf could even provide some acting lessons to help you prepare for your new elf role!
Hopefully this blank Santa letter template and a Christmas wish list printable will inspire your family to spend time together this holiday season.
This year more than ever, our world needs GOOD — people are craving it! That's why you should use these Christmas Kindness Lunchbox Notes as a simple way to spread good cheer during an especially turbulent holiday season.
Do your kids love a good joke, no matter how cheesy it is? This list of hilarious Santa jokes for kids with free printable will keep them in stitches all Christmas long!
Family Christmas traditions are a big deal in most families, and a popular one is driving around to look at Christmas lights. Add to the fun with this free printable for a Christmas Lights and Decorations Scavenger Hunt!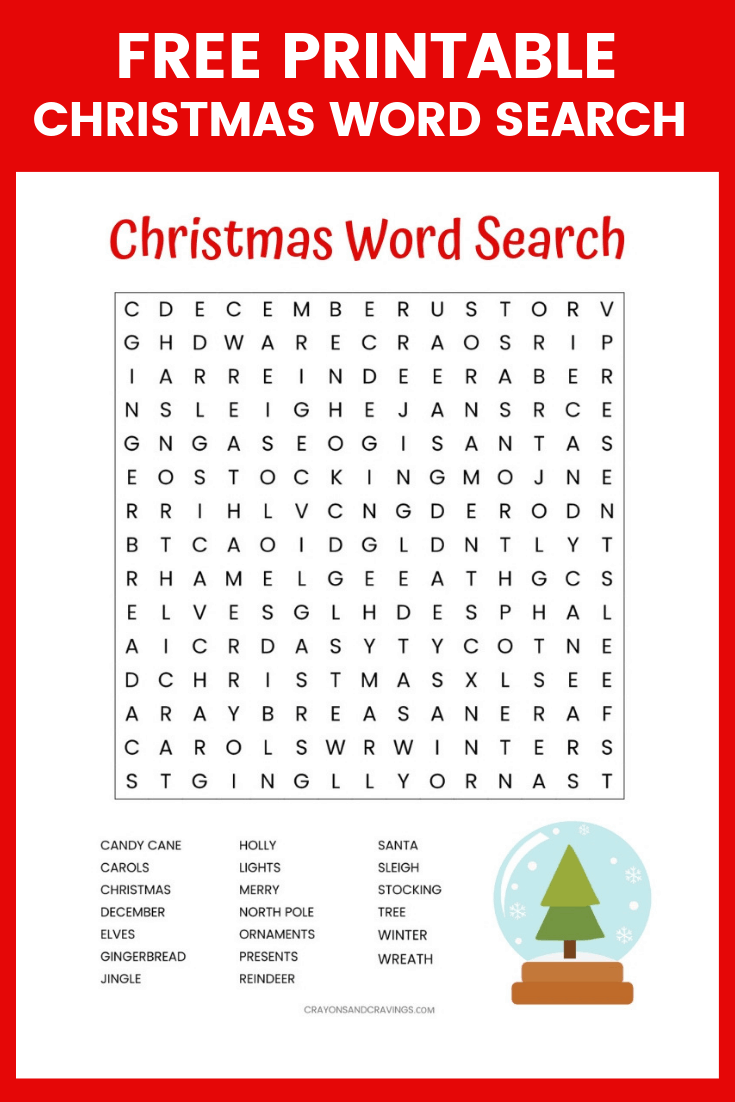 A Christmas Word Search printable worksheet with 20 Christmas themed vocabulary words. Perfect for the classroom or as a fun Christmas activity at home.
Here is a fun Christmas craft that will help your kids with counting and math! (And you can learn how to grab the free printable at the end! This is fun and easy. The goal is to work on numbers. More specifically, you can work on number sense, counting, and basic addition and subtraction here.
Play dough mats are all the rage right now! Whoever came up with the idea is a genius! They are a totally inventive way to teach young children all kinds of educational skills without making a huge investment. This set of five gingerbread play dough mats featured here is perfect for the holiday season. After all, what's Christmas without a little gingerbread learning fun?
This nativity craft was originally designed to be printed, colored, and glued around toilet paper tubes to make the pieces stand up. Or print on cardstock and skip the toilet paper towel rolls!
Download this free printable Christmas matching game to keep the little ones busy this winter! This memory game is the perfect size to toss into your purse so your kids can be entertained when you go to Grandma's house, an appointment, or anywhere where you have some time and space to play.
Are you heading to Hawaii for Christmas or just want to dream a little? This coloring book is the perfect airplane activity for kids or a fun thing to do over Winter Break.
It's your last chance to share your wishlist with Santa! This printable planner for kids has a few pages to help inspire you to get into the holiday spirit!
These printable Christmas hats include a Santa hat, and elf hat and a reindeer headband. All print in black and white to allow your kiddos to add their own splash of color and personality.
These printable Christmas tree coloring pages for adults are fun for the whole family! There are trees with complex geometric shapes for adults and teens to enjoy as well as simpler Christmas trees to color for younger children.
Christmas word scramble printable with 10 holiday words to unscramble. Print for free with or without a word bank for a fun Christmas activity for kids.
Advent activities for kids can be a fun part of building their anticipation for Christmas! There are lots of Christmas countdown ideas out there, but this is a good one to keep the focus on the real reason for the season.
Here is a fun way to practice uppercase and lowercase letters of the alphabet this Christmas. These Bon Bon Alphabet Puzzles will be enjoyed by all children in preschool and kindergarten.
There is no better way to get into the Christmas spirit than to ride around and look at Christmas lights. Here's a quick and easy Christmas Light scavenger hunt for younger kids to do while we were out looking at Christmas lights. They'll love it!
Use this printable Christmas Wish List template to write your own letter to Santa this year! With 4 spaces to write your ideas kids will love filling it in and sending it off to Santa. This is perfect for families who want to have a minimalist Christmas.
You are going to love this fun twist on the Elf on the Shelf Christmas tradition just like me. Simply print out the free Christmas book list below and have your elf deliver it to your little ones along with a Christmas book on Dec 1. Then every day until Christmas he shows up with another book to read with them at bedtime.
Your kids can keep track of their reading with the printable list and you don't have to think of any crazy scenes to set up with your elf every day! Then on Christmas Eve, he delivers a special gift to them such as hot cocoa and new PJs. Or a stuffed toy. Anything will work as a special treat from the Elf and for reading all month long!
Christmas can be unbearably exciting when you're a kid. The presents, the traditions, the food, the parties can cause a near painful amount of anticipation. How about channeling some of that excitement in a positive way and making something? This little printable Christmas book is the perfect answer! These free Christmas printables make memory making easy!
This free printable Christmas Charades Game is sure to cause some holiday giggles. This is one of our most repinned post on Pinterest. Everyone loves a fun Christmas game plus it's a freebie – you can't beat that deal!
This fun printable will give your kids some fun non-screen time as they use play dough to make various "reindeer parts" and then place them on the mat, depending on what they roll! Grab this free printable roll a reindeer play dough activity mat for your next holiday party or snowy afternoon!
These seven holiday-themed word search has 20 words to seek and find so it can keep even the most avid word search fan busy for at least a few minutes. There's even a trick on how you can reuse them each year withotu having to print them again!
Printable Christmas bookmarks are an easy way to send home a little reminder to families to read throughout the holidays. Use these bookmark templates in your classroom or at home! You can print them in color, or you can print them in black and white for kids to color!
Colouring pages are really useful to keep children busy, especially if the weather keeps you indoors. Here's free printable gingerbread house colouring page as it is sure to bring delight to any child who loves to sit and colour.
This 50+ page printable pack is aimed at children in preschool and kindergarten. It contains a variety of math and literacy activities. Or print the 70+ page printable pack aimed at children in grades 1 – 2.
Ready to write a letter to Santa with your little one, but not quite sure where to start? This free printable letter to Santa template will help your little one structure their letter to Santa.
This fun printable will give your kids some fun non-screen time as they use play dough to make a Christmas Tree scene by creating dough shapes and then placing them on the mat, depending on what they roll! Grab our free printable roll a Christmas Tree play dough activity mat for your next party or rainy afternoon!
Tracing is a great way for older toddlers and preschool age kids to practice fine motor skills and develop skills they'll use when they start tracing letters and writing. These fun Christmas tracing sheets are a fun way to practice all December long.
Pin these free Christmas printables for kids!
If you like these free Christmas printables for kids post, please share it on Pinterest! And don't miss our other awesome Christmas posts!