Here's a list of 27 beautiful and fun Thanksgiving decoration ideas for the home. Host a great Thanksgiving party with these Thanksgiving decor ideas for the table and even the porch! Some of these ideas are DIY and so simple that the kids can help make them!
Links on this website may be affiliate links.  We are an Amazon affiliate, which means we will receive a small compensation for each purchase you make through our links at no extra cost to you. 
One of the most nerve-wracking things about hosting a Thanksgiving dinner is preparing all of the food. At least, that's how it is in our home. (Tiffany is not the greatest cook.)
After the food, the Thanksgiving decor is probably the most stressful aspect of hosting Thanksgiving feast. After all, you want you home to feel as festive as the food!
Now, we are all about simple in our home. Here is a list of our favorite Thanksgiving decor items.
Pin It
Like these ideas? Share them on Pinterest! And don't miss out on hundreds of other Thanksgiving ideas we have for crafts, decor, food, desserts, pies, sides, and more!
Everyone loves all the fancy and elaborate tablescapes on Pinterest, but let's be real. Who has the time for all that when you've also got a house to clean, a meal to prepare and about a hundred other things on your to-do list? Go with this simple setup that anyone can achieve in less than 5 minutes!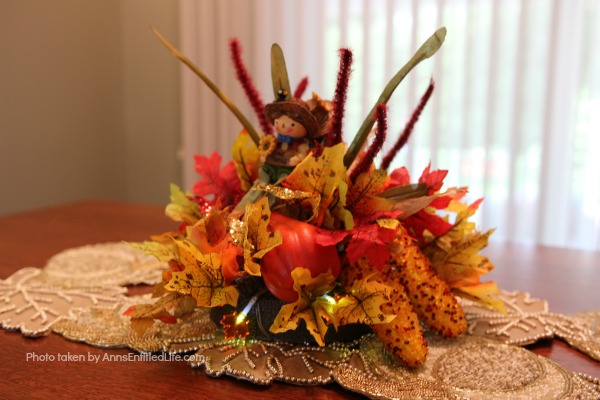 This lighted Thanksgiving centerpiece can be made with basics found at your local dollar store. If you are looking for an inexpensive, yet beautiful centerpiece, you can make this lighted Thanksgiving centerpiece in about 30 minutes with these step-by-step instructions.
Check out our post on 150 Thanksgiving Appetizers & Side Dishes
Follow this easy tutorial to learn how to print on burlap for beautiful Fall wall art!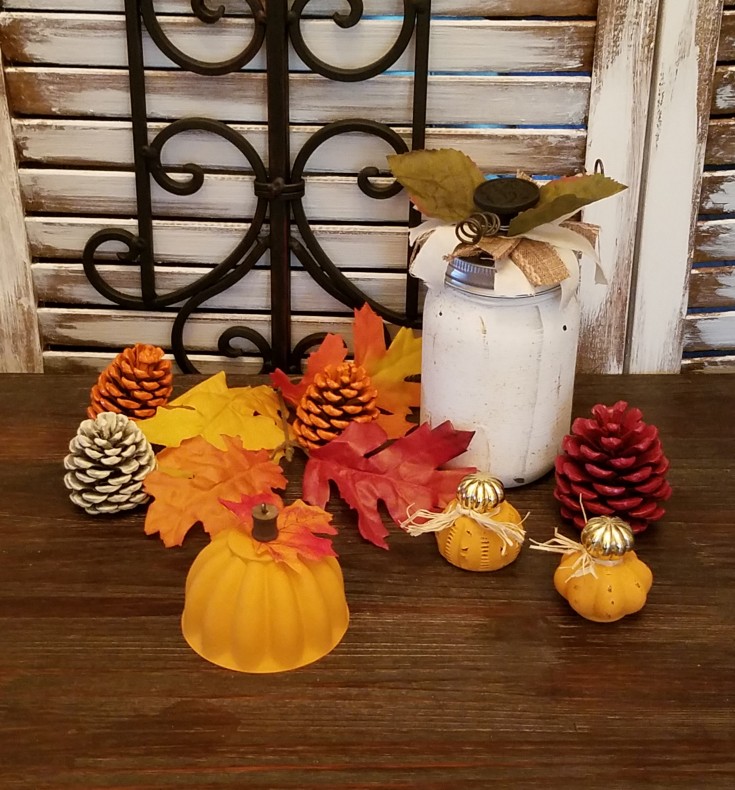 Pumpkins make a fun diy project because you can turn almost anything into a pumpkin.
Use this step by step instructional tutorial to make this adorable these Pilgrims Jar Craft for Thanksgiving! Simple to make, these cute little Pilgrims would look great as part of a Thanksgiving centerpiece, or on a fireplace mantel or side table as standalone decor.
Have leftover turkey? Make sure you read 60 Recipes for Leftover Thanksgiving Turkey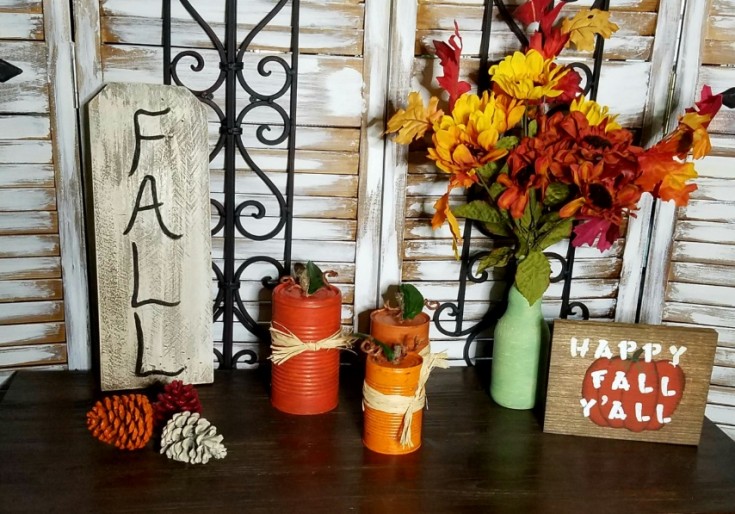 These Easy Diy Tin Can Pumpkins are super easy to make and so darn cute. They make a great way to keep tin cans out of the landfill, and a fun and inexpensive way to decorate for the holidays.
Learn how to make this rustic style, distressed Thanksgiving sign using washi tape, chalk paint, and Mod Podge!
Learn how to make this simple (and beautiful!) stained Give Thanks sign. Perfect for fall and the Thanksgiving holiday – with a touch of sparkle!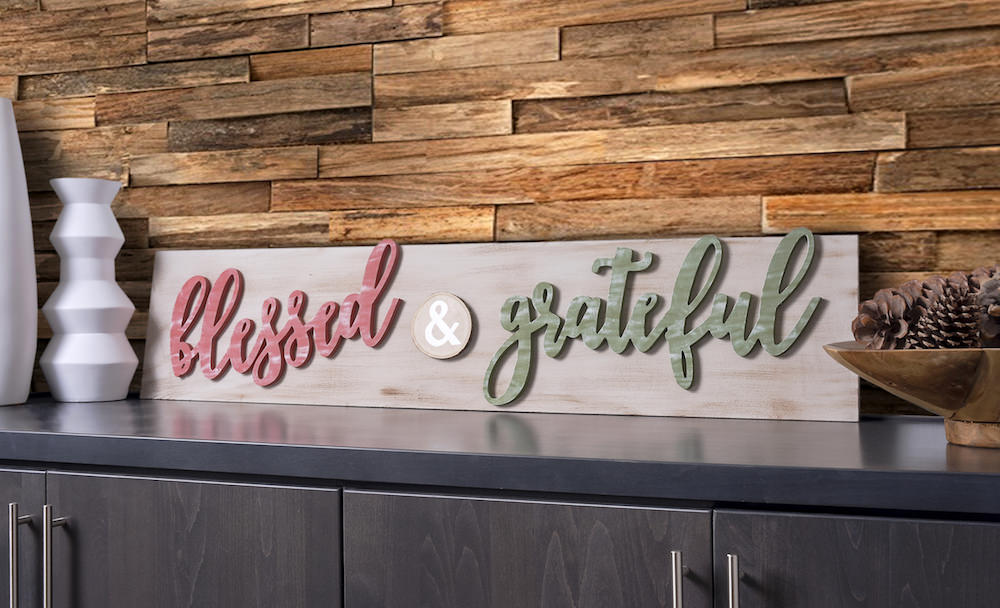 This blessed and grateful DIY Thanksgiving sign is a perfect compliment to your holiday decor. It's very EASY to make – great for farmhouse or rustic style!
Create the perfect Thanksgiving place setting with this place card! Use waffle flower stamps and xyron adhesive to make your Thanksgiving feast decor complete.
Don't forget to use this post with 15 Thanksgiving DIY Crafts and Printables for Kids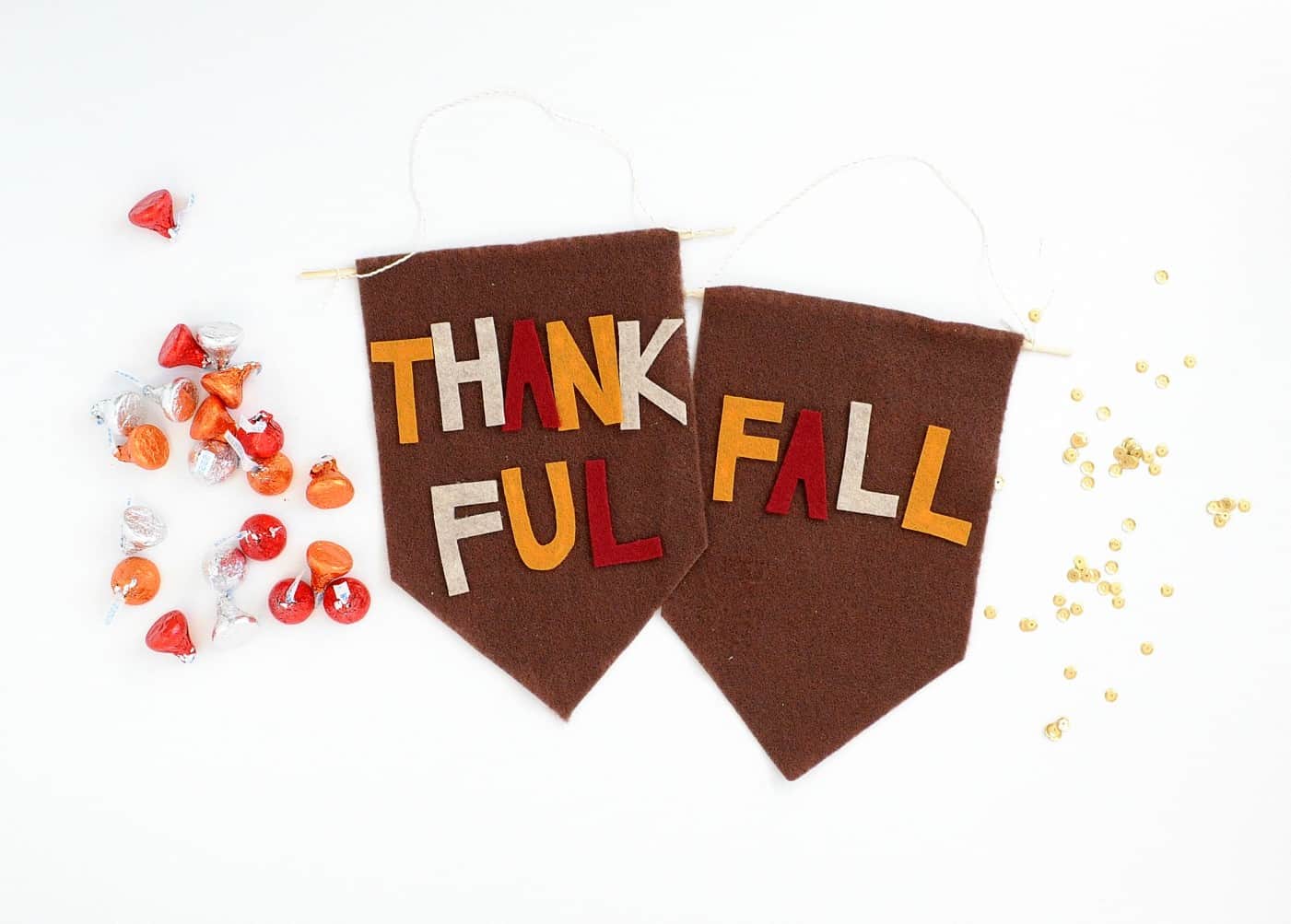 Felt banners are super trendy right now, and the best part is that they're also super easy to make! You'll love the tutorial for these simple fall banners.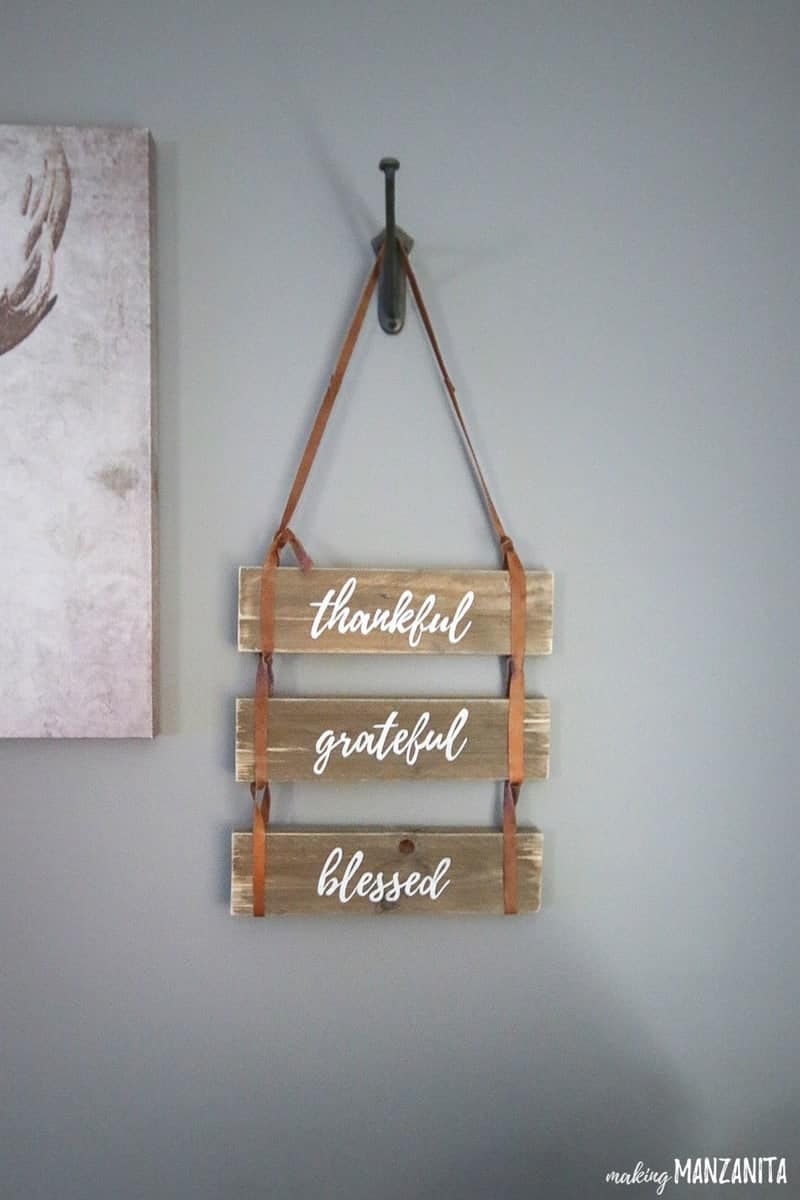 This Thankful Grateful Blessed pallet wood sign with leather straps is the perfect addition to your Fall decor, but could be used in your home year round. This step by step DIY tutorial walks you through all the steps to create your own rustic Fall sign.
These Pumpkin Pie Place Cards are the the cutest place cards of all time! Made from card stock and tissue paper, they add a cute festivity to your Thanksgiving dinner table!
These mini fabric pumpkins are normally made for decoration, but you can use yours as Thanksgiving place cards. Just use this fun way to add the names to each pumpkin!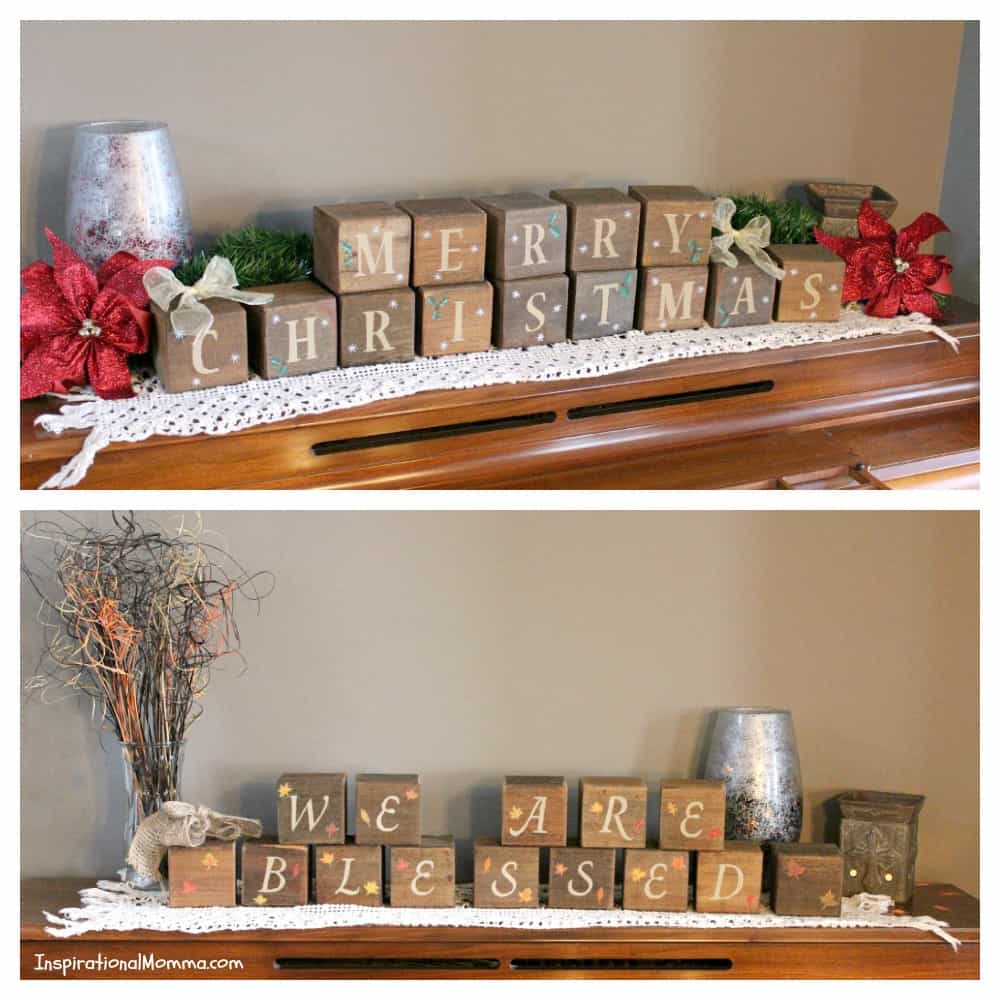 These Reversible Thanksgiving/Christmas Blocks are affordable and so simple to create yourself. It's the most wonderful time of the year.
Don't miss this post on 27 Thanksgiving Decoration Ideas!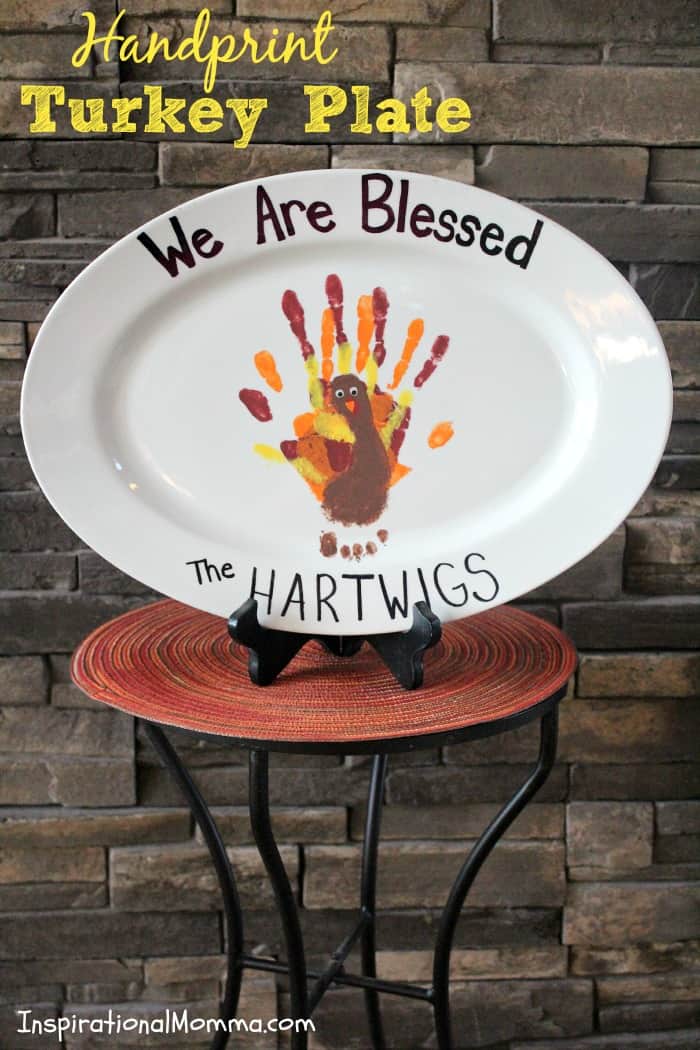 This Handprint Turkey Plate not only has a piece of each of your children on it, it also makes a statement about your family. This plate is a perfect decoration for Thanksgiving and also a great way to remember just how tiny their hands once were.
This Candy Corn Craft was so simple and easy to make! Your kids even would able to lend a hand in creating your craft so that makes it even better!
Succulent Centerpieces are easy, gorgeous, and last 2 months. Fall centerpiece for Autumn decor or a Thanksgiving gift!
Thanksgiving Table Pumpkin Flower Centerpieces will say "Happy Thanksgiving Everyone"! Make Thanksgiving Table Pumpkin Flower Centerpieces using bright fall colored flowers and greenery in pumpkins, and give to guests!
Grab these wooden leaves at your local Target and then use your cricut machine and Easy Press to customize it just in time for Thanksgiving!
Check out our post on 35 Thanksgiving Main Dishes
Create the perfect wreath for Thanksgiving with these beautiful crepe paper leaves!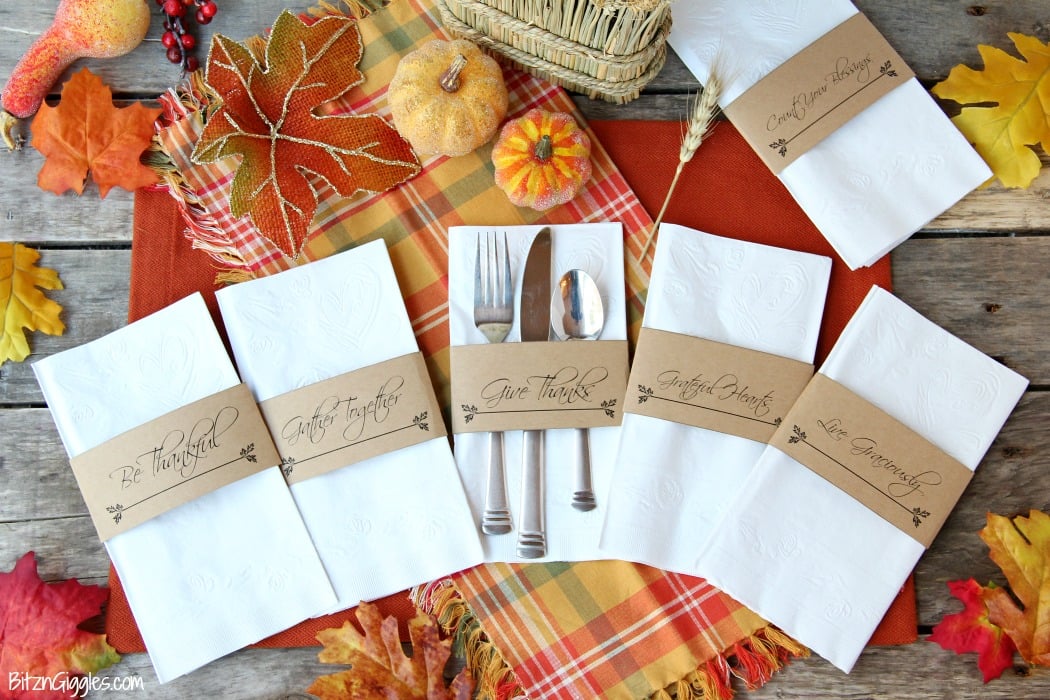 These Printable Thanksgiving Napkin Holders are a simple and elegant way to dress up your table for Thanksgiving! Choose from six different designs!
This DIY Scarecrow made out of cedar pickets is the perfect addition to your Thanksgiving decor! In addition to being a scarecrow, it could easily be adapated to become a pumpkin or a pilgrim.
Use a cricut to make this DIY paper leaf wreath with metallic pearl paper. This brown and gold DIY fall paper wreath will welcome your Thanksgiving gifts with beauty!
We've got a HUGE list with over 100 Thanksgiving Pies & Desserts
There is nothing better than having a cricut on hand to make your own gold foil napkins! These DIY Thanksgiving turkey napkins will be perfect for a farmhouse Thanksgiving tablescape.
Pin It
Like these ideas? Share them on Pinterest! And don't miss out on hundreds of other Thanksgiving ideas we have for crafts, decor, food, desserts, pies, sides, and more!