15 Thanksgiving DIY Crafts and Printables for Kids
Keep your family entertained this Thanksgiving dinner with these fun DIY Thanksgiving crafts and printables for kids and toddlers. These crafts and printables will be the perfect activity for your preschool-age and older kids this Thanksgiving!
Thanksgiving is such a wonderful time of year! Good food, time with family and friends, and lots of memories to cherish through the years.
Links on this website may be affiliate links.  We are an Amazon affiliate, which means we will receive a small compensation for each purchase you make through our links at no extra cost to you. 
One thing that we've learned in our family is that Thanksgiving can be a bit rough on the little ones. It takes a lot of time for the adults to get the food ready, and the littles can be impatient.
We want this to be a fun time for them as well, though, too! So here is a collection of some DIY Thanksgiving crafts and printables for children to keep them occupied.
Pin It
Like these ideas? Share them on Pinterest! And don't miss out on hundreds of other Thanksgiving ideas we have for crafts, decor, food, desserts, pies, sides, and more!
Thanksgiving coloring pages to get in the holiday spirit with your kids. You can keep them busy while waiting for Thanksgiving dinner with these Thanksgiving coloring pages. They also include some fun activities like a maze, dot-to-dot, tic tac toe, and a gratitude list. This set of free printable Thanksgiving coloring and activity pages that will make your kids' table even more fun!
This is a fall craft that you and the kids will love. Use them year after year for decorations on the table and to hold treats. Get the kids together for this cute DIY Fall Thanksgiving Kid's Craft – Turkey Treat Holders.
Check out our post on 150 Thanksgiving Appetizers & Side Dishes
Print out this Free Printable Thanksgiving Activity Page to keep kids busy in the classroom or at the dinner table on Thanksgiving!
This super cute Thanksgiving turkey craft is a great way to keep your preschooler entertained while celebrating the holiday season. Use a tie-dye art effect for create an adorable turkey craft.
Download these cute free Thanksgiving bookmarks for kids to color! This activity will give children (of all ages!) time to enjoy coloring as well as have something to take home to encourage reading.
Don't miss this post on 27 Thanksgiving Decoration Ideas!
Here are free printable Thanksgiving lunch box jokes for kids to share this month! It's a great way to make your kids smile while they're at school, and it's a really fun way to get excited for Thanksgiving!
This free printable Thanksgiving word search is a great way to teach your children (or students) some Thanksgiving Day-themed vocabulary. It will also be a fun addition to your Thanksgiving table to keep the kids (and hungry adults) entertained.
This year, create some fun Thanksgiving Turkey Treat Bags for Thanksgiving dinner and to give to your kids' school teachers. These turkeys are so fun to make! To make things easier, there's a free printable template for you to use so you can enjoy making some for your family and friends as well!
Check out our post on 35 Thanksgiving Main Dishes
This Thanksgiving Bingo will become a fun tradition for your family! With the game being mainly images, it's easy for kids of all ages to play. This would be a fun way to pass the time while the family is waiting for Thanksgiving dinner to be ready!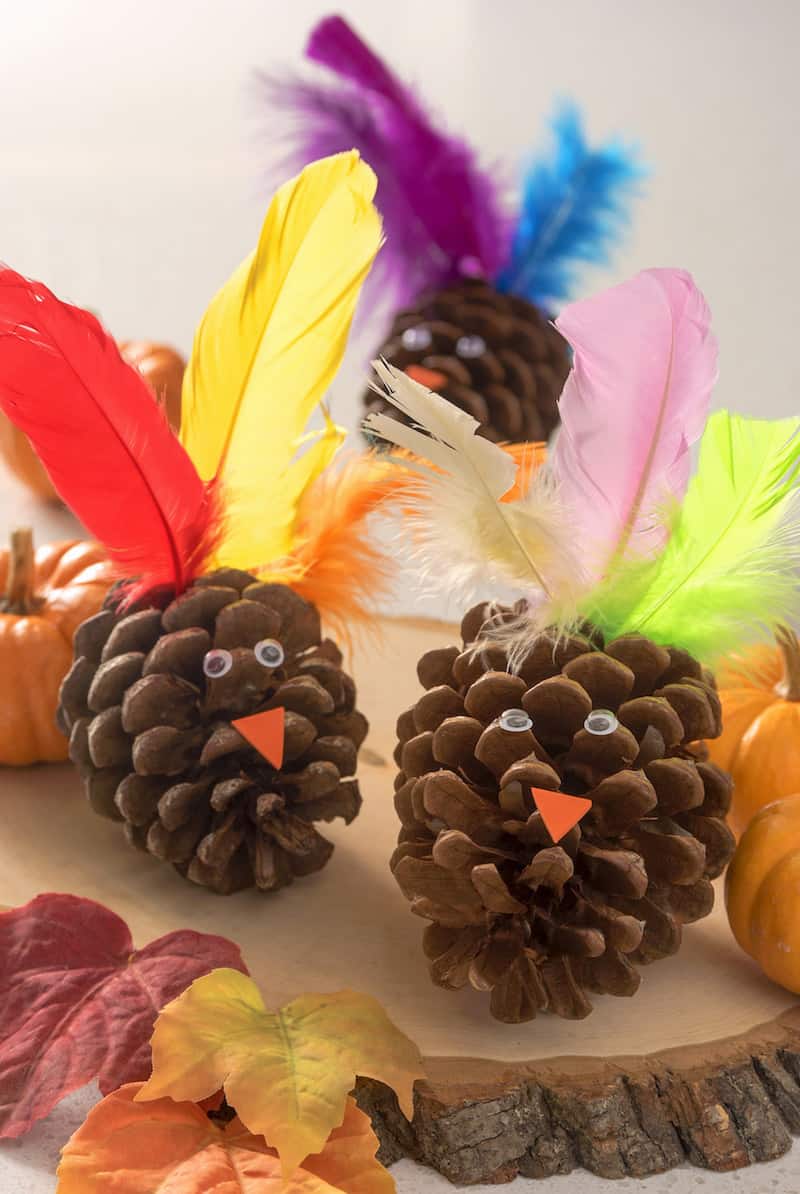 This pinecone turkey craft is a perfect kids craft idea for Thanksgiving! It's so easy anyone can do it, and the materials are cheap.
Sometimes, when the adults sit around and talk, the children get a little bored – especially if the weather is nasty outside. The Thanksgiving Activity Set gives children (young and old) fun activities to do while you enjoy each other. The place cards make for a festive table setting. The Thankful Sheets allow you to start a new family tradition of writing down the top 5 things you are thankful for and then sharing them.
Entertain the kids at your Thanksgiving table with turkey printable idea! So fun with cupcakes. Includes pre-colored and coloring page prints.
We've got a HUGE list with over 100 Thanksgiving Pies & Desserts
These cute Thanksgiving placemats are adorable! They're a simple craft that kids can use, and the Bible verse about gratitude on them make it a perfect Thanksgiving craft for a Sunday School or Primary class.
These adorable Thanksgiving Place Holders are made from empty cans and brown spray paint to fashion adorable turkeys with each guest's name on them! They are simple enough for children to help create, and they'll be thrilled to see their handywork on the Thanksgiving table.
Have leftover turkey? Make sure you read 60 Recipes for Leftover Thanksgiving Turkey
These Wide-Eyed Turkey Cupcakes are sure to be a hit at your Thanksgiving party or meal this year. They are so easy to make and will be almost too cute to eat!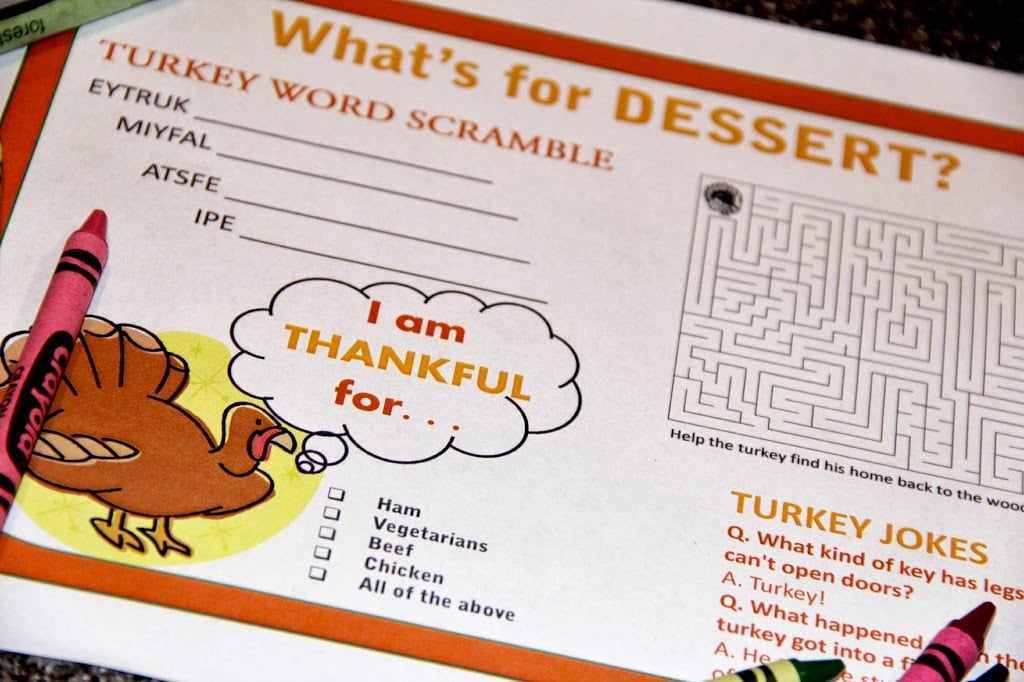 While the adults sit down to enjoy a scrumptious Thanksgiving meal, the kiddos can be enjoying some word scramble and turkey jokes before, during and after the meal (when they're waiting for dessert, of course).
Pin These Thanksgiving Crafts
Like these ideas? Share them on Pinterest! And don't miss out on hundreds of other Thanksgiving ideas we have for crafts, decor, food, desserts, pies, sides, and more!