15 Adorable Leprechaun Trap Ideas for Saint Patrick's Day
Links on this website may be affiliate links.  We are an Amazon affiliate, which means we will receive a small compensation for each purchase you make through our links at no extra cost to you. 
Also check out our other St. Patrick's Day posts:
Saint Patrick's Day Leprechaun Traps
Looking for a fun St. Patrick's Day project for your kids? Try this leprechaun trap idea! Who knows, you may be lucky enough to catch a leprechaun who can take you to his pot of gold! Be warned though, leprechauns are tricky & hard to catch. If you do manage to catch one, you can't take your eyes off of him even for a second. They're small and they can escape quickly. Still up for the challenge? Yes? Great! Let's get started!
With St. Patrick's Day sneaking up on us, it's time for a fun leprechaun craft – like a leprechaun trap! Toddlers and preschoolers will have a lot of fun learning how to make a leprechaun trap. While this is technically a leprechaun garden… it can be a really fun way to trap those pesky leprechauns!
Make a simple leprechaun trap with a little bit of engineering and science! This leprechaun trap uses the concept of a simple machine – the pulley. It's simple to make and easy to handle and demonstrate to others.
Leprechauns are super tricky and really fast, so if you want to find out the secret about where their gold is hidden you must set a leprechaun trap! Once you catch them they are obligated to tell you the truth, but you must act quickly. Try this homemade cereal box leprechaun trap to see if you are lucky.
Planning a leprechaun trap is an awesome STEM activity for kids. It includes coming up with a design and planning it out, building creations, using math skills, testing ideas, problem-solving weak points, and inventing trapping mechanisms (simple machines). Plus it's just a really cool St. Patrick's Day STEM activity for kids. Everyone wants to try and trap a leprechaun! Adults too.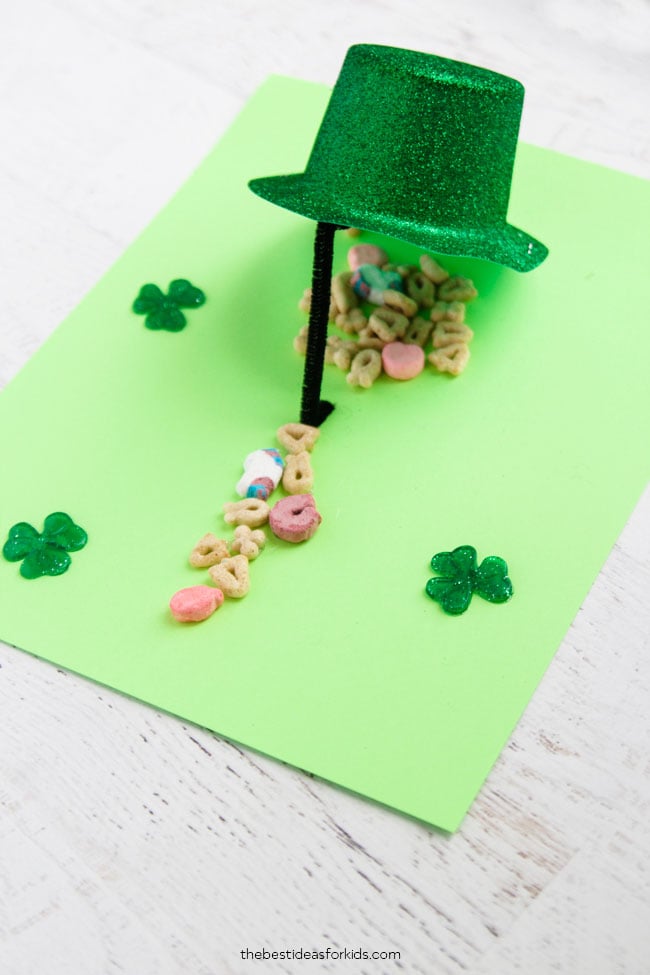 If you're looking for an easy St Patrick's day craft, building your own leprechaun trap is the perfect STEM activity. Kids will love creating their unique leprechaun trap for St Patrick's day. The best part is that every trap can be unique and there is no right way to catch a leprechaun.
Every year kids get excited about trying to catch a leprechaun. The wee little guys are both mischievous and magical. Catching one is tricky, of course. Coming up with different leprechaun traps makes a great, hands-on STEAM project for kids of all ages.
If you want to catch a leprechaun for St. Patrick's Day, you'll need to know how to make a leprechaun trap. This fun leprechaun trap is not only easy to make, but it uses supplies that you either already have or that can be found for next to nothing. Budget friendly and simple? It's the perfect St. Patrick's Day craft!
Looking for a fun craft to do with the kids? Why not make this cute and easy Leprechaun Trap. The kids will love it and the items do not cost much either. Check out how this family made their Leprechaun Trap, and make one of your own with the kids today.
At some point or another, you will probably want to trap a leprechaun. I promise you, curiosity will get the best of you and you're going to need these instructions in order to build a Leprechaun Trap to catch one of these elusive little creatures. OR your child's school teacher will send home a paper for a family team building event requiring you to send a leprechaun trap to school. Either way….these instructions will save the day.
To make your own leprechaun trap, here are some elements you may want to include: shamrocks, bait, a ladder, and a trapping mechanism. For this glass jar leprechaun trap, a hole on the top is the perfect way to catch that pesky little guy!
According to legend, if you manage to trap a Leprechaun he'll have to give you three wishes–or his pot of gold–to regain his freedom. But you have to be VERY careful–Leprechauns are tricky little dudes! If you don't like the idea of trapping a leprechaun, here's a fun alternative!! Build a cute leprechaun house and set it up as a rest stop for tired leprechauns. Hide a treat for them, and maybe they'll leave some gold as a thank-you!
Want to know how to trap a leprechaun? This rooftop garden leprechaun trap will make it easy and if it works, you may just be able to catch that sneaky leprechaun once and for all!
It's that time of year! Everybody is trying to make the best leprechaun trap so they can get that pot of gold. This awesome trap costs almost nothing to make and will outsmart even the sneakiest of leprechauns!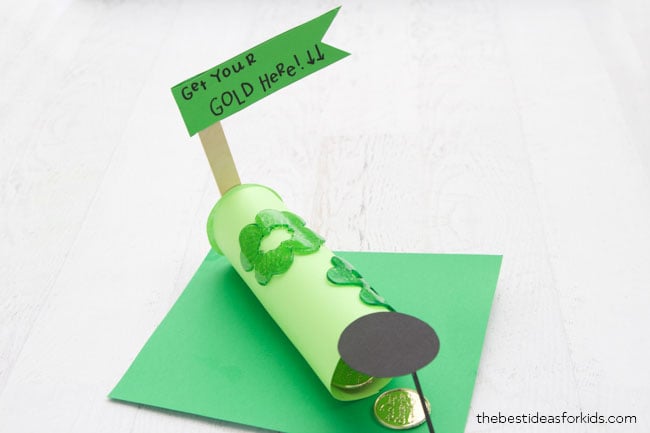 It's time to make leprechaun traps! Kids can have fun planning and designing their trap beforehand. Have kids first draw out a design and then they can build it. You can put out all of the supplies and let kids create their own versions too! It's great that every leprechaun trap can be unique.
Pin These Saint Patrick's Day Leprechaun Traps
Share these Saint Patrick's Day Leprechaun Traps on Pinterest!