It's summertime, and what better way to celebrate the hot days than with cool dessert recipes? This list of delicious desserts are perfect for the summer as you gather with friends and family, or just to eat on your own!
Links on this website may be affiliate links.  We are an Amazon affiliate, which means we will receive a small compensation for each purchase you make through our links at no extra cost to you. 
Don't miss out on our other fun summer ideas for meals, salads, water activities, crafts, printables, and more!
Pin It!
Like these ideas? Share them on Pinterest!
Looking for an easy OREO fluff recipe with a tropical twist? This Strawberry Pineapple Tropical OREO fluff is the perfect summer side dish for gatherings and barbecues.
Fresh blueberries meet tangy lemon in this creamy no bake cheesecake! This Lemon Blueberry Cheesecake is another easy Summer dessert for you and your family. Many people love experimenting with cheesecakes and no bake versions are the way to go during these hot days.
Lemons and blueberries are a dynamic duo that make for a delicious flavor combination. When you add in coconut, you get a perfect summer treat bursting with flavor and beauty. These easy-to-make bars feature a crisp shortbread cookie crust layered with tart lemon curd and moist coconut pound cake, topped with juicy blueberries and toasted coconut. The lemon adds a nice citrus tone to the sweet blueberries, while the coconut adds a lovely texture and flavor contrast.
Making vegan ice cream is really easy and there's so many flavors you can try. You'll love the blue and purple colors of this Healthy Blueberry Nice Cream Recipe. Blueberries are low in calories especially for a fruit. It's also one of the lowest carbohydrate fruits. This is beneficial for people on low carb diets, like the keto diet.
This Strawberry Nutella Pavlova is the best dessert. This recipe is easy to make and guaranteed to be hit. You really can't go wrong with Nutella and strawberries. This recipe makes 3 medium size pavlovas, but you could also make mini individual pavlovas. This is the perfect make-ahead dessert.
Banana Split Pops are a delicious, fun, and creative twist on the traditional Banana Split Dessert! If you are planning to serve a banana split dessert recipe, give these Banana Split Pops a try!
Easy and quick to prepare Slow Cooker Peach Cobbler recipe! Packed with juicy, sweet peaches and a spongy cake topping, this Slow Cooker Peach Cobbler recipe is one summer dessert not to be missed!
This No-Bake Strawberry and Cream Pie is a light, refreshing and easy to make pie, filled with fresh strawberries! You don't even have to turn on your oven to make this pie.
This cake is happiness on a plate, truly. The combination of mango, lime and coconut is divine. You'll make this one again and again! Click on the link to learn how to make the World's Happiest Cake (official title).
Here is an amazing recipe for a Rhubarb Cream Cake that will have everyone asking for more. Even people who don't like rhubarb. It will be a hit at your next gathering!
Cherry Cha Cha is perfect when you're looking for a quick, easy no bake dessert for a potluck or you're feeding a crowd. It also happens to be red and white, so also ideal for your patriotic celebrations this summer!
With summer right around the corner, it is the perfect time to make frozen treats like these Neapolitan Frozen Dessert Cups. Everyone loves frozen treats because they are perfect for hot summer days. The kids are also crazy about them too!
Thai coconut ice cream anyone? This homemade Thai ice cream is the perfect balance of coconut milk, lemongrass, yuzu and coconut sugar. Make this lavender honey ice cream next!
If you are a fan of Creamsicles, you are going to want to make this No Bake Orange Creamsicle Cheesecake this summer. You will find a delicious Nilla Cookie crust with layers of orange creamy cheesecake filling. Perfect for summer picnics and BBQ's.
Mini Frozen Cannoli Cheesecake Bites, these little Italian cheesecakes are full of ricotta, mascarpone, orange, and chocolate. Perfect bite-size treat for potlucks and parties!
This No-Bake Banana Cream Pie is delicious. This no-bake pie can be thrown together in 10-15 minutes! It's light, fluffy, and so delicious. You'll love this quick easy dessert that doesn't take hours to make!
A deliciously creamy and minty ice cream base mixed with extra minty, buttery, bittersweet peppermint chocolate pieces dispersed throughout the ice cream Stracciatella-style. This really is the BEST Mint Chocolate Chip Ice Cream ever! This mint chocolate chip ice cream is a classic summer treat, with a minty freshness.
This delicious strawberry Jello pie recipe is easy to make using a premade graham cracker crust, Cool Whip, fresh strawberries, and – you guessed it — Strawberry Jell-O.
Super simple Mixed Berry Oatmeal Jam Bars are everything you would think of in a summer dessert! Fresh fruit that is quickly made into your own homemade jam makes these jam bars delish!
Vegan raspberry cream dessert without mascarpone or curd. When you have invited guests and want to prepare a special dessert without much effort, then you should definitely make this sweet Raspberry Dream dessert without refined sugar. Your guests will not even notice that this dessert was prepared without dairy products. And the best thing is, you have found a simple and quick recipe that will enchant your guests.
This Loaded Ice Cream Sandwich Dessert is the PERFECT summertime treat! So easy to make, use your favorite toppings. A definite family favorite, you'll love it. It's a scrumptious frozen treat that will leave you wanting a second serving.
A super light, fresh, cooling fresh fruit sorbet, perfect for summer and Vegan friendly! You can eat it soft-serve style, or you can put it in the freezer to set up.
You will make this easy blackberry dump cake over and over again! It's tastes like an blackberry cobbler with cake mix, and so easy to make!
This no-cook/no-bake banana pudding has an incredible cream cheese pudding filling and lots of bananas. The best part about this dessert is it contains delicious Twinkie snack cakes!
One of the great joys in life is a Blueberry Cream Pie. Loaded with lots of fresh blueberries and just the right balance of cream and sweetness to make this dessert a showstopper!
The Strawberry white chocolate mousse cake is so creamy. The bass of the cake is a sponge cake then comes the incredible fluffy and rich white chocolate mousse and on top a layer of strawberries. There are no words to describe how good this cake is, you will have to make it and try for yourself.
This creamy, no-bake, frozen pie combines whipped cream, cream cheese, peanut butter, and Butterfinger candy bars on top of an Oreo cookie crust for a cool, summer treat for everyone to enjoy!
This sweet treat made with pineapple will become one of your favorite summer indulgences. This easy no bake pineapple dessert did the trick! You could almost call this tropical coconut pie a pina colada pie or even a pineapple chess pie. Maybe even a no bake pineapple pie or a no bake pineapple cheesecake?
You are going to fall in love with this dairy free frozen dessert! It's creamy, refreshing, sweet and tart! This luscious Strawberry Lemonade Ice Cream Cake is the thing of dairy free dreams! Just a few simple toppings are needed to take this Strawberry Lemonade Ice Cream Cake to the gorgeous next level.
With layers of a brownie batter flavored base, luscious chocolate cheesecake, and a topping of chocolate ganache this No Bake Keto Chocolate Cheesecake Recipe is any chocolate lovers dream.
This amazing summer cake is bursting with citrus flavours and a hint of honey. Made with coconut flour and cassava flour, this cake is tree nut-free, grain-free, and naturally gluten-free. Seriously, one of the best cakes you'll make. Ever!
Nothing says summer more than key lime and coconut. Together, they are an absolutely perfect combination for a trifle or parfait!
This Rootbeer Float Pie is so easy to make. Using a store-bought pie crust you can have this pie done in no time. So good you will be thinking you should be using a straw instead of a fork.
Entertain effortlessly with these Healthy No-Bake Coconut Lime Tarts with Fruit and Yogurt. They're gluten-free and naturally sweet! A full pulses in the food processor, a little dollop of Greek yogurt, some fresh fruit and BAM! Super impressive deliciousness perfect for a little every day fanciness or for some seriously speedy Summer entertaining!
This Whipped Chocolate Candy Crunch Pie is enough to get you "Chocolate wasted", LOL. If you have never had or made chocolate whipped cream you don't know what you are missing . It is simply scrumptious and should be on the top of any chocolate lovers must haves. It can be used as a topping, dip or just lick it off a spoon. It is not only incorporated into the light and fluffy pie, this pie is topped off with it.
These delightfully light and refreshing Avocado Lime Popsicles are the perfect way to cool down this summer! As added bonuses, they're dairy-free, kid-friendly, low carb and make a fantastic keto fat bomb.
First off, how creamy do you want this dessert to be? A little creamy? Buy two containers of whipped cream! How about receving an "OMG, that is sooo good!" reaction? Go ahead and pick up a third container. Use one container for each layer!
A no-bake dessert recipe, Joanna Gaines' Magnolia Bakery Chocolate Eclair Banana Pudding, is an easy yet rich and decadent dessert. Multiple layers of yummy ingredients stack up to make one tasty treat.
Mango and lime work together in this tart to create a sweet and tangy, custard-like filling that sits atop a buttery graham cracker crust. This luscious, creamy dessert has sweetened coconut mixed into the graham crackers creating a sweet, toasty crust.
Mango adds a wonderful sweetness to the traditional key lime pie filling to create an elegant dessert that's tart and refreshing, while the coconut whipped cream adds a heavenly tropical touch creating a perfect balance of flavors. This tart is the perfect ending to any casual summer cookout that doesn't leave you feeling guilty.
Raspberry Rhubarb Crisp Bars are a sweet, tangy vegan dessert with no refined sugar and the goodness of rolled oats. They're like fruit crisp in bar form! One thing is for sure — these crisp bars would be the perfect dessert for your summer gathering!
This recipe combines three delicious things; Funfetti, Cake Batter, and Ice Cream. What more could you really ask for in an easy to make sweet treat?! This recipe can be made in big batches for parties or you can half the recipe for more single size servings. Ice cream stands up very well in the freezer, so this recipe can even be made well in advance, as long as you promise not to eat it all before the big day.
This late summer take on the classic cream puff blends a fresh blackberry flavour into the cream and is coated in rich dark chocolate. Perfect mouthfuls of blackberry cream puff indulgence and the chemistry of raising and stabilizing your choux paste for best results.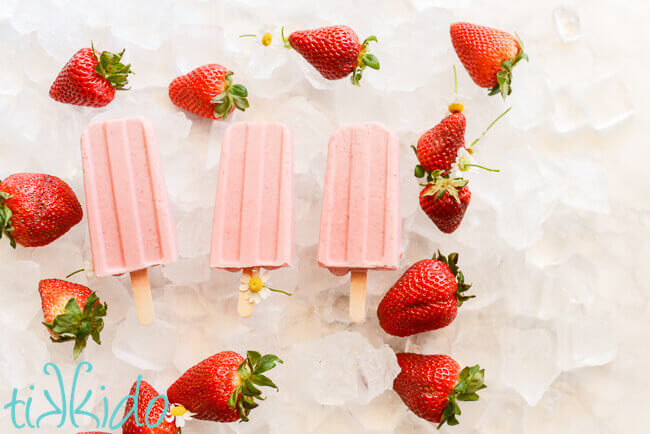 Strawberries and Cream Popsicles are have all the fabulous flavor of homemade strawberry ice cream, but are so much easier to make!
Sweet strawberries and tart rhubarb combine in this vegan gluten free strawberry rhubarb crisp everyone will love. It's super easy to make and, of course, it delicious. You can serve it plain, or you can top however you'd like!
This recipe for no-bake vanilla cream pie is for all the vanilla lovers out there. This creamy, rich vanilla filling with the buttery cookie crust is perfect for summer days when you don't want to turn on a hot oven or for busy moms who want to make something special but don't have a lot of time to bake something.
Lemon curd raspberry cake is the perfect cake for any occasion. The cake is so soft and moist it just melts in your mouth. The best part is that this cake is gluten-free and by switching out the sugar it also Keto and Low cark.
Not only is this Blueberry Lemon Pound Cake perfectly moist and dense, but it is also gluten free, keto friendly and sugar free too! When it comes to making keto desserts, working from scratch is the best way to go because you can guarantee quality ingredients without a ton of added sugar and carbs.
This lemon icebox pie with Eagle Brand Milk and Marshmallow Meringue comes together so easily and it tastes divine! Once you and your family smell this icebox lemon meringue pie cooling on the counter, it won't last much longer!
How do you make this recipe for lavender ice cream? It's very easy actually. You only need a few ingredients to make this recipe for lavender ice cream. This vegan dessert recipe is so refreshing!
This incredibly easy no bake dessert is packed with superfoods, bringing you loads of nutrition in this indulgent treat! This Mint Cream Icebox Dessert w/ Raw Brownie Crust will have you forgetting all about those little girl scout cookies. It's super easy to make and boasts a fudgy crust with a light-as-air minty cream filling.
This Blueberry Skillet Pie with Flaky Crust is so easy to make and perfect for summer. Baking an easy blueberry pie in cast iron has never tasted so delicious!
No-Bake Chocolate Peanut Butter Lasagna, an easy chocolate lasagna dessert recipe perfect year-round! This dessert lasagna recipe and graham cracker cake has a layer of homemade peanut butter filling and a layer of homemade chocolate filling. Easy ingredients and easy to make! Also known as an icebox cake or refrigerator cake, this chocolate and peanut butter lasagna is the best dessert for a crowd since it's delicious and makes a lot. The best!
Celebrate the delicious sweetness of ripe mangoes with this luscious No-Bake Mango Pie that's easy to make and perfect for sharing with family and friends. Although fresh mangoes are available year-round, spring and summer is mango season. This means fresh mangoes and lots of them!
Easy sugar free blueberry cheesecake ice cream is a delicious dessert made from just 5 ingredients! This recipe can be used without an ice cream maker. Next time you crave a really big piece of blueberry cheesecake, make this ice cream. Seriously, it's so good and besides, it's sugar free! Which means, you can stop feeling guilty about your cravings and satisfy them to the full extent.
This is a perfect No-Bake Pie Recipe for all you bakers who have no time, but still want to have a delicious dessert. If you love quick and easy desserts, this one is for you! This no bake Hershey pie is sooo simple. All you need is 3 ingredients!
Though technically not a salad, this classic dessert will become a family favorite. The combination of sweet, salty, creamy, and crunchy is irresistible. With a pretzel crust, a cream cheese middle, and a strawberry layer on top, this delicious dessert is perfect for summer gatherings.
This Keto Strawberry Shortcake is the perfect spring and summer low carb dessert. With moist cake, fresh whipped cream and sweet strawberries, this is a perfectly balanced keto treat. Aside from being completely visually stunning, this Keto Strawberry Shortcake is one of those desserts that is just layered with flavor all the way through.
Sweet and salty meet in this Epic No-Bake Butterfinger™ Cheesecake Pie recipe. With chunks of Butterfinger and a salty graham cracker crust. This is the perfect dessert.
Summertime is for enjoying frozen desserts and just because you're on Weight Watchers, doesn't mean you should be deprived! Summer is short so enjoy those frozen desserts while you can! And cherry season is ever shorter, so make as many of these ice cream sandwiches as possible.
Pin It!
Like these ideas? Share them on Pinterest! And don't miss out on our other fun summer ideas for meals, salads, water activities, crafts, printables, and more!